There has been a serious argument among homeowners when choosing the best outdoor tiles materials for creating a perfect outdoor space for comfort. While some prefer natural stone materials, others argue that artificial outdoor tiles look more charming and luxurious.
This article does not focus on giving a verdict on which one is better. Instead, we are providing you with the numerous benefits of natural stone outdoor tiles as they can make your patio look like a mini paradise. Choosing outdoor tiles made of natural stone materials can give you a lot of visual appeals.
Natural Stone Outdoor Tiles Are Versatile
You don't have to stretch your creative ability to the limit before you convert your patio to a sanctuary of comfort and relaxation. All you need is to develop a unique design and make your visitor want to visit you. Without a doubt, terrazzo outdoor tiles made of natural stone materials have a magical way of drawing attention and expressing a feeling of a comfort zone. Once your guests step into your patio, they will feel immediately catch the feeling.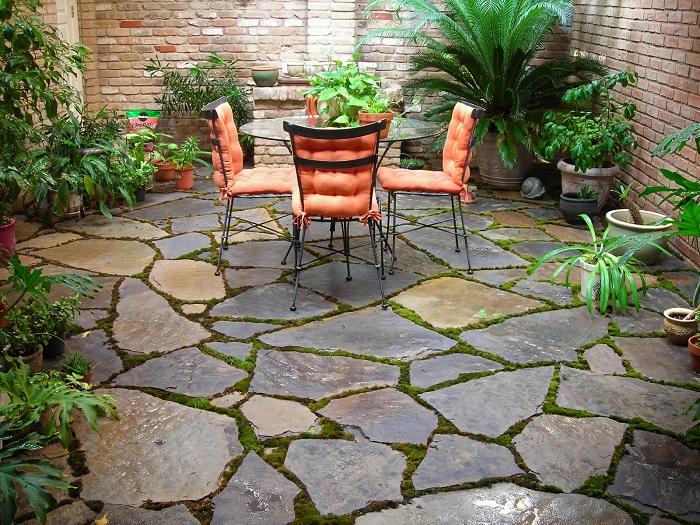 Outdoor tiles made of natural stone materials are easy to clean and maintain. They are highly resistant to heat, stains, dirt, fungal growth, and cracks. You don't have to spend much money deep cleaning your outdoor space; a simple mop will make the entire area look sparkling new. More so, natural stone outdoor tiles are easier to install. The installation cost ranges from $5 to $30, depending on your preferred style, design, and installation materials used.
There are seven different natural stones materials used to make outdoor tiles. All seven types are gorgeous and durable enough to make your outdoor space look relaxing. Meanwhile, they contain unique elements that slightly differ in functionality and use.
There is no secret to choosing suitable natural stone outdoor tiles for your outdoor space. There is a need for you to get familiar with the seven different types. And, that's what this article is offering you generously. In this write-up, you will learn about the properties of each type and where they perfectly fit.
The 7 Types of Natural Stone Materials for Outdoor Tiles
1. Granite
Granite is among the highly esteemed natural stone materials used for making -outdoor tiles. It is a premium and sturdy-looking paving material with a highly polished surface. Granite is a powerful stone that can hold a building for more than a century. That is what you stand to get when you install outdoor tiles made of granite material in your outdoor space.
One of the low points f this natural stone material is that it becomes slippery when moisture touches its surface. You can blame the exceptionally polished surface for that disadvantage. Granite is also a porous material. For that reason, you need to seal it frequently to avoid moisture penetration. It is also prone to holding stains when wet. Granite is a beautiful and durable material; you only have to ensure it doesn't get soaked to avoid accidents. Checkout different verity of granite outdoor tiles on https://www.alibaba.com/showroom/outdoor-granite-tile.html
2. Sandstone
This natural stone material is a sedimentary rock stone. It is soft but not delicate. Although sandstone is not as hard as limestone, it can withstand heavy foot traffic without cracking. This natural stone has a unique texture made from compressed sand. The unique texture of sandstone can add a lot of beauty to your outdoor space when laid in a contemporary pattern.
Outdoor tiles made with sandstone are porous. Hence, you shouldn't install them in an uncovered outdoor space. If your home is located in an environment with heavy rainfall, you shouldn't go for sandstone outdoor tiles as they are prone to scratching.
To prevent your sandstone outdoor tiles from water penetration and cracks, you will have to seal them frequently. Sandstone outdoor tiles are an excellent choice for dry climatic conditions.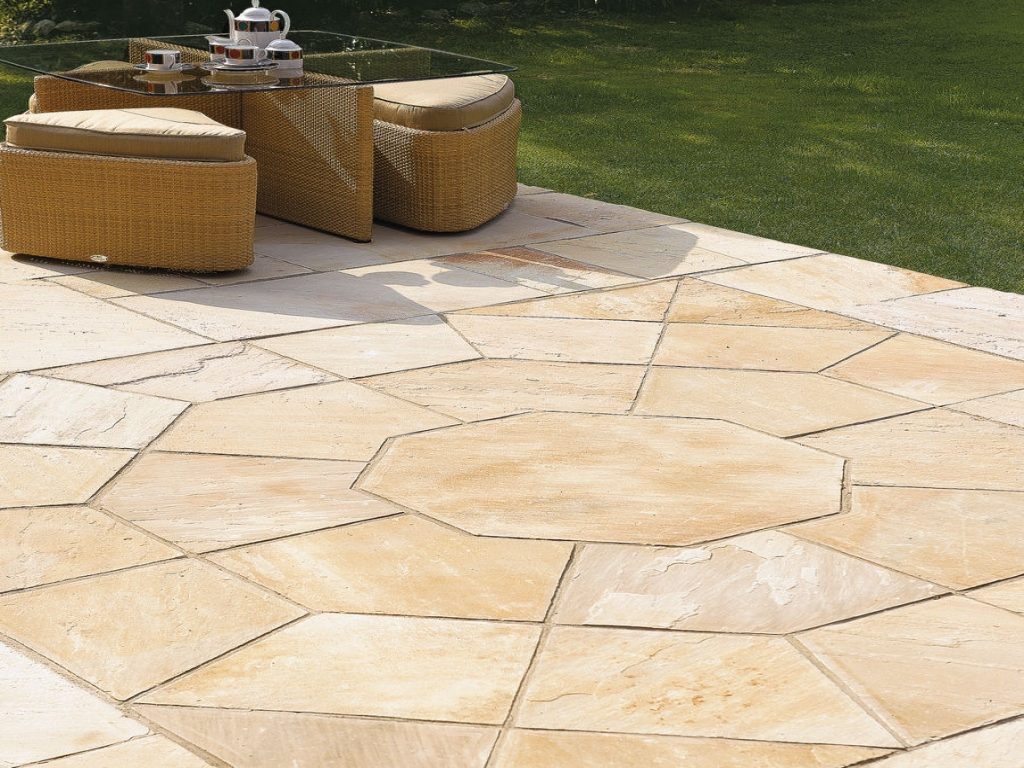 3. Travertine
This natural stone has won the heart of many homeowners with its eye-catching, gorgeous color and texture. You will love it on your swimming pool floor, especially when light shines from beneath. Travertine looks more like limestone. Miners get it very close to the mineral spring deposits.
Outdoor tiles made of travertine material are beautiful. They give an incredible, luxurious look and feel that add value to the property. One of the lowest points of this natural stone is its pitted surface, which makes it more prone to attracting and retaining dirt.
4. Limestone
Limestone is a favorite material in most construction works. Most engineers prefer it because they can quickly fabricate it. This natural stone is a sedimentary rock that you can get in various shades, including grey, red, tan, and brown. This unique feature gives you more options to make your design fantasize become realities.
The light shades of this natural stone are perfect for a relatively humid environment. They can generously reflect heat. Though limestone is soft, outdoor tiles made of these materials can easily scratch, crack and break. To prevent stains, you need to ensure they remain sealed every time. Limestone outdoor tiles are more suitable in dry weather conditions.
5. Slate
Slate is a great outdoor tiles material. It is a form of strong metamorphic rock formed under heat and pressure. This outdoor tile material is very durable and water-resistant. You can also take benefit of its natural texture to showcase a mid-century look on your patio. Outdoor tiles made of slate are non-slippery. They are available in various colors, including purple, green, and orange. Click here to get more about slate outdoor tiles.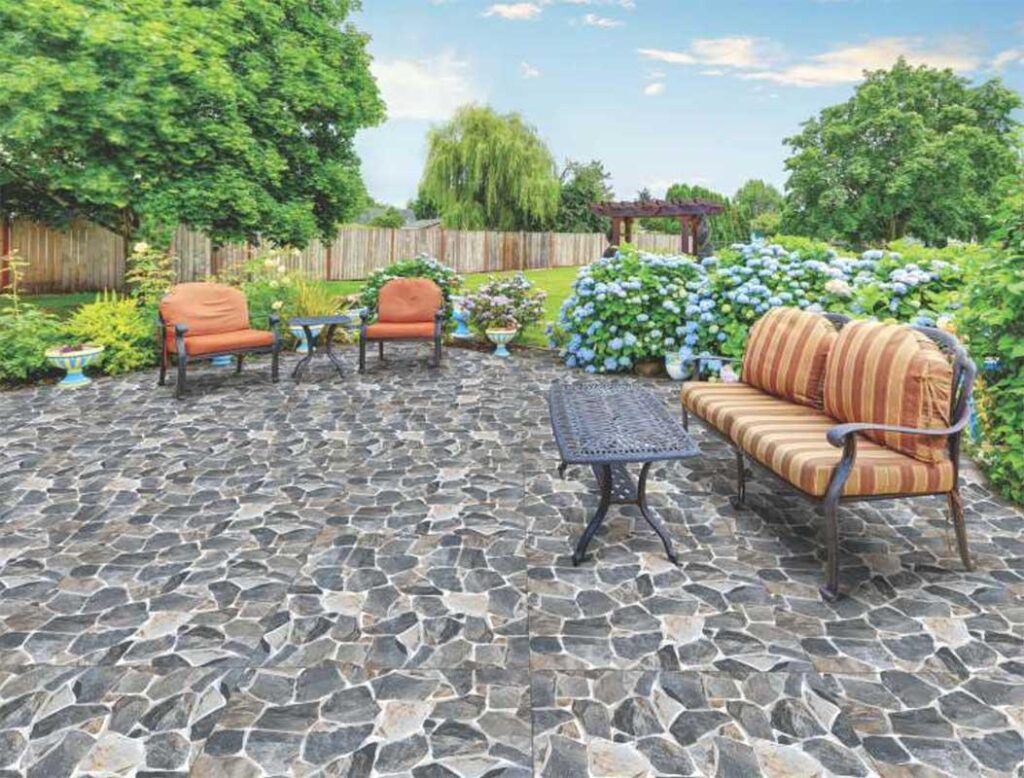 6. Marble
Marble outdoor tiles are relatively the most durable and most luminous. Marble is a lovely natural stone that most homeowners love to use for outdoor areas. Marble outdoor tiles are water-resistant and can withstand the pressure of harsh weather conditions. They are among the most common and loved patio decorating items. You can create almost any design with this versatile natural stone.
7. Soapstone
This natural stone is a non-porous material. It comes with a silky but smooth texture. Outdoor tiles made of soapstone are highly resistant to stain heat and water. You can be sure of its mouth-watering strength and durability even in harsh weather conditions. Outdoor tiles made of soapstone are an excellent choice for a swimming pool. You can use them in freezing climates.
Final Words
Outdoor tiles made of natural stone are suitable for creating a lovely outdoor look. It is always advisable to consider the atmospheric condition of your area before choosing the suitable natural stone material for your outdoor tiles.