Do you have a bathroom remodeling project on your hands? Is it difficult for you to decide which bathroom tiles to use? It is essential that they be long-lasting, simple to maintain, and, of course, attractive so that our home may develop its own distinct personality. Despite the large number of possibilities available, we have selected the five finest solutions that are flexible enough to accommodate our preferences and temperaments while also providing us with unique arrangement ideas.
1. White bathroom tiles with a break from the framework or delicate pastel colors are ideal.
In our bathrooms, white tile is undoubtedly the most popular choice among homeowners. Why? The color white brightens up the room. It creates a feeling of order and brightness in the environment. When used in conjunction with a reflective glaze, it creates mirror reflections that seemingly expand the space. White bathroom tiles have always been, continue to be, and will most likely continue to be one of the most popular bathroom colors.
How can you ensure that your white bathroom does not become aesthetically monotonous?
Consider breaking it up with structural embellishments that are the same color as the walls. Another option is to apply a subtle pastel accent to it, with which we may designate a certain wall, shelf, or zone behind the bathtub or shower.
In the bathroom, it's fun to experiment with white, geometric shapes, and bright colors. Even while white is eternal, the use of well dosed structural and pastel accents may transform a place from strictly sanitary and boring to something more attractive and unique.
2. The contrast between white and black – the force of contrast
Despite the fact that it may be used to symbolize any type of interior design, the greatest conceivable contrast – black and white contrast – is an utterly ageless combination.
Every value is important in this case: the degree of purity of white and black, the proportions of their mutual use, the operation of large mono-color planes or the opposite, the use of alternation (random or planned, such as a chessboard), the size of individual elements from which we build the composition, the type of surface (matt, shiny, structural, with a frame), as well as the presence and type of the pattern (or its absence) – all of these characteristics make that using only two.
White and black bathroom tiles are often used to produce a clean, monochrome look in interior design. We may readily pick supplements and experiment with different textures and architectures as a result of this.
Using white wall and floor tiles, a black wall with a shelf in the toilet area, an Audrey Hepburn photograph on the wall, a mirror in a silver frame, and lamp shades, we have created a composition that will not get stale for a long time and that will stand the test of time without a doubt. And if we want to make a change, we can simply alter the additions, for example, by painting them in bright, clear colors instead of muted ones, and our bathroom will transform into a contemporary interior in the style of Op-Art.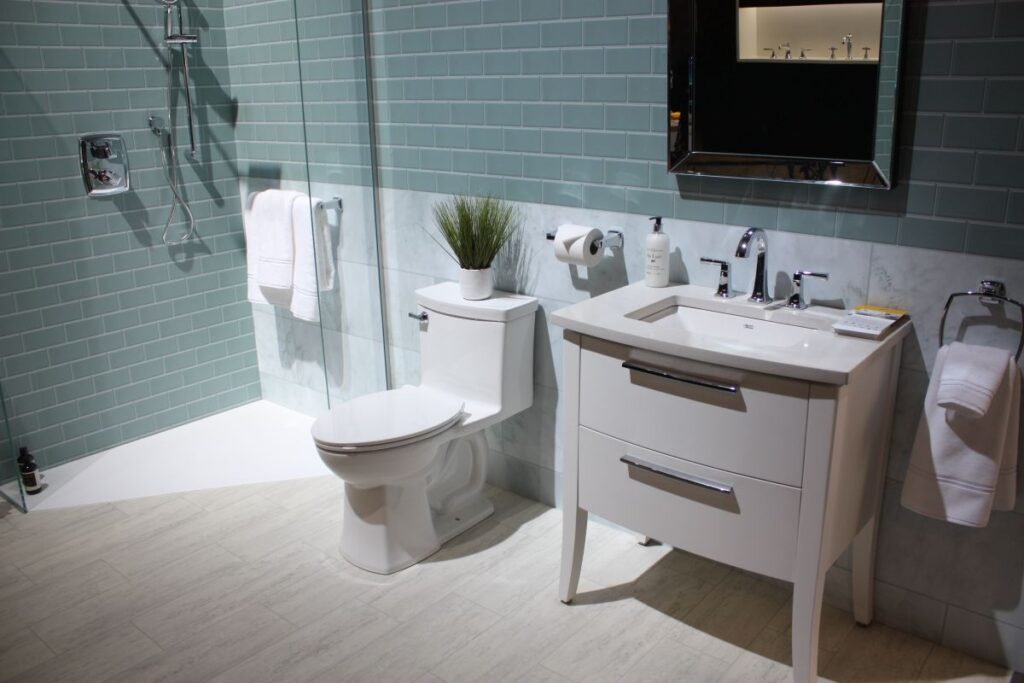 3. Subdued foundation bathroom tiles combined with a splash of color or décor
Using a distinguishing accent to break up the quiet, tranquil foundation tiles – such as a rich color or an eye-catching design motif – is another tried-and-true bathroom option. Subdued whites, all shades of grey, warm and cool beiges – bathroom tiles in these colors perform very well as a foundation for constructing intriguing interiors, in which an eye-catching décor or a vibrant color may be brought to the forefront. If we like changing the look of our bathroom on a regular basis, one- or multi-colored glass decorations, structural decors, and bath fabrics, lights, mirrors, hangers, and photos or paintings in frames may all be used to create a strong focal point in our bathroom.
4. White bathroom tiles, ceramic, and natural wood are combined
White and wood in the bathroom is a classic combination that hasn't gone out of style in a very long time. This is the distinguishing characteristic of the Scandinavian design, which we like and are delighted to include into our homes. It is normally really pleasant and hygge in here since the smooth whiteness of the tiles highlights the warm nature of the ceramic boards. There is, without a doubt, a plethora of colors, drawings, textures, and wood-imitated bathroom tiles that may be set in a number of styles ranging from classical to Provencal, rustic, retro, shabby chic, eco, contemporary, industrial, and minimalistic.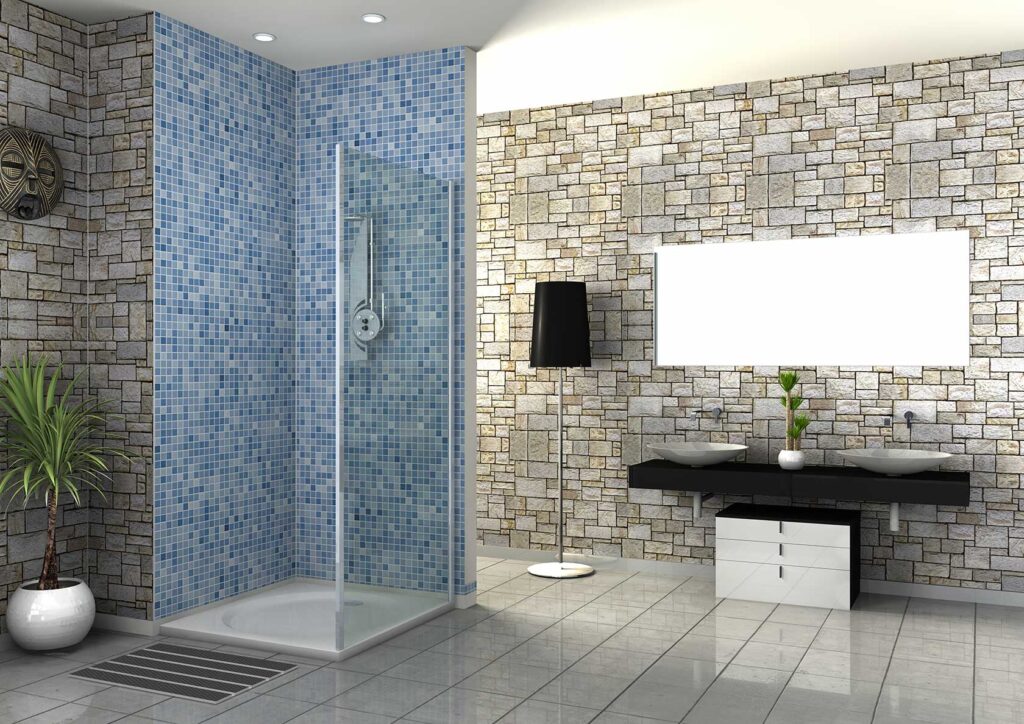 5. A clearly defined decorative theme, which is the arrangement of space.
Each bathroom is separated into sections called zones. The toilet area is often enlarged in order to make advantage of the shelf that is generated as a consequence of the installation of a hanging shell on the wall. The basin zone, which is normally equipped with a mirror, is often used as a dressing table for beauty treatments.
If we want to draw attention to the functions of certain bathroom space pieces, we may employ ceramic decorations – for example, tiles with linear, geometric, floral, or abstract themes – as well as other decorative elements. By following this easy approach, the practical arrangement of the bathroom becomes evident, and the whole area is nice and gives the appearance of being well-organized.
Conclusion
When faced with the decision of which bathroom tiles to choose, it is worthwhile to get familiar with the most popular and proven arrangement methods that may be effectively applied to your interiors, such as:
1. White bathroom tiles with a clear structure in the same color or in a delicate pastel color in addition to the white tiles.
Two-toned bathroom tiles in white and black is a classic combination.
3. Neutral, modest base bathroom tiles in conjunction with vibrant, cost-effective color and design embellishments are a good combo.
4. The use of wood in conjunction with white bathroom tiles is effective.
Fifth, decorations should be used with consideration in order to organize bathroom space and separate distinct useful zones.
Also readout: Pro Tips for Choosing the Right Outdoor Tiles for Your Patio